About Monsieur Paul :


Monsieur Paul  

The work of Monsieur Paul / Pascal Vochelet is exhibited in the art fairs of New York, Miami, Basel, London, San Francisco, Moscow,... and his works are present in many important collections in France and abroad...

Monsieur Paul's work (aka Pascal Vochelet) is fed with pictural references and personal notes, taken from the universe the artist is exploring as an attentive loafer.

He paints pictures, opening narrative spaces that come to us like the sound of a far off melody. This is an invitation for a decoding work that animates

Gently, his painting's strangeness becomes familiar to us. The different techniques of drawing and painting that he uses are driving us in this sense, by slight advances. Subtly, transparency by transparency, we are trigging the poetics wires of our relation to the world, of our past dynamics and of their current resonance.


Strange familiarity

Born in 1973, Pascal Vochelet first studied architecture before continuing his studies at the Faculty of Fine Arts in Amiens. Quite quickly he invoked his double, "Monsieur Paul", through whom he found a new creative energy. His work is nourished by pictorial references and personal notes, reflecting the world he explores as an attentive stroller. He paints paintings/castle where he opens up narrative spaces that come to us like a distant melody. The artist then suggests that we carry out a work of deciphering that animates our memory.  Delicately, the strangeness of his painting becomes familiar to us. The different drawing and painting techniques used guide us in this direction, by small good ones. Subtly, from transparency to transparency, we draw the poetic threads from our relationship to the world, from our past dynamics and from their current resonance.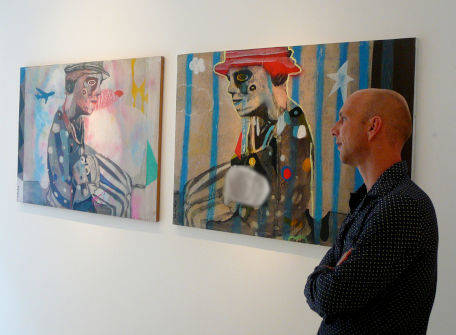 2019
Frame Basel, juin
Sérigraphie Atelier Tchikebe "Arthothèque Antonin Artaud"
Frame Miami, décembre 18 / février 2019
Innsbruck art fair, janvier 2019 with Lena Rosseli


2018
Frame, Miami, décembre 2018
Lena and Roselli Gallery / Budapest / Octobre 2018
Frame expérience, Paris, Octobre
Lena and Roselli Gallery, Budapest, Octobre
Contemporary Istanbul, Septembre
Seattle Art Fair, Août
Art Market Hamptons, Juillet
Frame, Basel, Juin
Art New York, May
Art Market, San Francisco, Avril
Art on Paper, New York, Mars
Art Winwood, Miami,Février
Art Palm beach, Janvier
London Art Fair, Janvier


2017
Art Miami, décembre
SOFA, Chicago, novembre
YIA, Paris, octobre
CUBE,Bruxelles, octobre
Contemporary Istanbul, septembre
Cosmoscow, Moscou, septembre
Seattle Art Fair, Aout
Art Market , Hamptons, juillet
Art Pampelonne, Saint Tropez,juin
Art Salzburg, juin
Scope, Bâle, juin
YIA, Bâle, juin
Art New York, mai
Art Market, San Francisco, avril
YIA Maastricht, mars
Art Miami, février
Art Palm Beach, janvier


2016
Scope miami, décembre
YIA, Paris, Novembre
Art Istanbul, Octobre
Art Cologne, octobre
« Dessiner disent-ils », au Centre d'Art des Pénitents Noirs,
Aubagne, octobre
(dans le cadre de PAREIDOLIE, Salon International
du Dessin Contemporain)
Art Copenhague, septembre
« Leurs nouveaux dessins », l'Artothèque Antonin Artaud,
 Marseille, septembre  (dans le cadre de PAREIDOLIE,
Salon International du Dessin Contemporain)
The Solo Project, Basel, Juin
Art London, mai
Scope NYC, avril
YIA#6, Bruxelles, avril
Galerie 55Bellechasse, mars
Art Wynwood, février
Art Palm Beach, Janvier


2015
YIA Art Fair (Paris, France)
Art Silicon Valley (San Francisco, USA)
Art Fair (Cologne, Germany)
Art Copenhagen (Copenhagen, Denemark)
Art Southampton (Hamptons, USA)
Scope Basel (Basel, Switzerland)
Art Miami NY (NY, USA)
Art Paris, Grand Palais avec 55B (Paris, France)
Scope NY (NY,USA)
Art Wynwood (Miami, USA)

 
2014 / 2013
Cutlog New York (NY, USA)
Scope New york (NY, USA)
Artothèque Antonin Artaud (Marseille, France)
Galerie Olivier Chetail (Megève. France)
Art Basel Miami (Miami, USA)
Galerie TRISTAN LEGAGNEUR (Paris, France)
« Les Nouveaux collectionneurs » (Aix en Provence, France)
Galerie Nouchine (Nice et Beaulieu-sur-mer, France)
Cet Art qui m'entreprend #2, UPE 13 (Marseille, France)
Galerie 55Bellechasse (Paris, France)
Centre culturel ville de La Garde (La Garde, France)
Centre culturel Bellegarde (Toulouse, France)
A workshop, rue Saint Pierre Pénétrant in Pascal Vochelet's studio, we are seduced by his paintings overflowing with characters, animals of recognizable or not shapes, moons, tiny villages, silhouettes, here riding a camel with a triangular snout, elsewhere lovingly embraced. We savour the historical collages: Don Quixote (east) in Cuba; the horseman of Balance has only a headless body, The Saint has a quadruped for a scarf...  This meeting determines our desire to exhibit his works.  Pascal Vochelet has come a long way from his first attempts as a painter using an apple as a model to the recent Collages historiques: their saturated, jubilant universe, located "somewhere between childhood stories and human comedy", intrigues us with all that he has in him of indefinite nature: dream or the beginning of a nightmare? We don't know. Characters and animals do not seem to see us, taken that they are in their world, that of tales not yet written.  Pascal Vochelet's paintings are organized into different series that develop not by successive pushes, but as the branches of a single tree where faces, lives and scenes of life swarm and circulate, viewed from afar with derision, cruelty sometimes, and a tenderness without effusion nourished as well by childhood memories - the Norman countryside, the guests of the hotel run by his family - as by images gleaned by leafing through a magazine: hands, heads, silhouettes, groups of characters arranged on the canvas, initiate the painting that the painter's work will bring out by linking all these fragments together.  In the series Familiarities and Ascendancy where his gaze focuses on a character, sometimes two or three, Pascal Vochelet becomes a portraitist of a humanity shown without complacency: pieces of bodies are transferred, printed, cut out, brought back on the supports; often, the faces are rhodoïd masks painted and applied on the canvas, glued to pre-existing bodies: a small dog's head overtakes a mastodon in uniform.  As in dreams, images can be recomposed to produce more exuberant ones: thus Bohemian Drawings converge to produce historical Collages.  Vochelet's world sometimes becomes quieter. The drawings of the Punk attitude series inscribe animal heads on body sketches in an empty sheet of paper with, in amulet, the small skull found in the Vanity fair series.  Humour is not absent from these drawings: a nod to the title of a famous fashion journal blends with traditional meditation on death, a bit like in the art of the clown where emotion and laughter are one.
Antonin Artaud Art Library