About Daniel Castan :


From his previous life in the advertising world, Daniel Castan retained a disciplined work ethic, a sense of urgency, and a passion for megalopolises. It was during this period that Daniel traveled extensively to New York and Hong Kong, developing a fascination for urban environments and vast perspectives. He endeavors to recreate these graphic atmospheres in his paintings.

Having graduated from fine arts, it was in his forties that he finally decided to fulfill his creative urge. Unburdened by unnecessary reflection, Daniel Castan approaches painting with a sense of physicality. His perspective is that of a long-distance runner who trains for hours each day and relentlessly moves forward. For him, only color and material matter, and there is almost a power struggle between him and the canvas: he never waits for elusive inspiration; his works are born from work and perseverance.

The lines of buildings vanish into the sky, the wide avenues seem endless, and colors collide. The palette knife is the artist's preferred tool. It allows him to work with texture, create broad strokes, and carve into the material.

As a creature of instinct, he chooses tools that align with his personality: his knives cut sharply, and the fast-drying alkyd oil leaves no room for doubt. Under his hands, lights burst forth from the canvas, perspective lines emerge from the collision between planes, and details appear, sculpted in the thickness of the material. Fascinated by the urban world, he initially works from his own photographs but gradually moves away from them. His memories, the emotions experienced in the chaos of the city, are so deeply rooted in him that they become a separate language, unconcerned with geographical references and realities.
EXHIBITIONS (resume)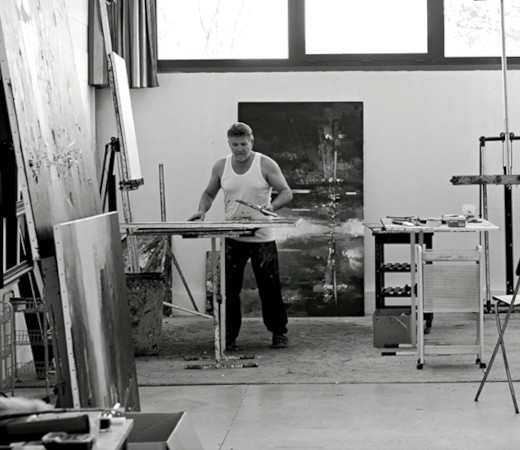 Affordable Art Fair - Milan - Italie
Galerie de Francony
NY Manhattan - 241 Bleecker Street - New York
Galerie " Art et Emotion " - Lausanne - Suisse
Galerie Beyrouth - Liban
Galerie Cologne - Allemagne
Art Up Lille
Lausanne ART FAIR - Lausanne - Suisse
Galerie Sylvie Platini - Crans Montana - Suisse
Zantman Art Galleries - Carmel by the sea - Californie - USA
Galerie Viviane Ranaldi - Porto Vecchio • Corse
Galerie Frans Vanhove Art Gallery - Leuven (Belgique)
CC Galerie
Galerie "Art de vivre - Collection" - Hong Kong
Les Rencontres Estivales de Montjoi
Galerie " Vent des Cimes "
Galerie Nicole Gogat
Salon Art Montpellier
Salon Art 3F
Art Up Lille
CC Galerie
Galerie Sylvie Platini
St'art
Galerie Valerie Peter
Galerie 337
Galerie Rikia Ferrer
Art3G - Anvers (Belgique)
Art3G - Luxembourg
Luxembourg Art Fair
Salon de Milan - Italie
Salon de NYC - Etats Unis
Galerie 3020 - Marrakech
Invité d'honneur du Salon Vienn'art (38)
Invité d'honneur du salon de Thorigné-Fouillard
Galerie " PARIS.NEW-YORK ART GALLERY " Luxembourg
Galerie St Victor - Genève
Galerie des Lombards - Mougins
Galerie Beyrouth - Liban
Galerie Cologne - Allemagne
Exposition Shangai - Hangzhou
New York city is by far the favorite theme of the artist. In his elegant compositions, the geometric shapes of the buildings echo one another, a dramatic sky adds a focal point to the otherwise orderly views or a clear sky sends a message of emptyness.

His warm, dark and contrasted palette sets the tone of the paintings, and emphasizes the sometimes brooding and sometimed highly energic atmosphere of the city. An outstanding series of works by this talented international artist.
F. Clinvaux - Paris


«For Daniel Castan, the topic is a secondary consideration. He concentrates on laying on the paint, on material structure, on imagination and action. He summarizes his procedure in a few words: ''I paint, and the subject matter follows.'' In another apparent paradox, the artist who claims that he cannot stand cities paints New York in a striking manner. A fantasmatic New-York, that of the seventies detective novels, of the American dream, in which all and sundry can project themselves, where lines, graphic details and perspectives are the reason for painting.
 
The same applies to cars and to light. There is little space for human beings – a small crowd here or there, but more often than not only as background. On closer investigation, Daniel Castan stands on the border of abstract art.
He doesn't deny it: ''At the beginning there was too much detail. Increasingly, I delete, I weed out. I shall certainly end up in abstraction''. New York suits him. A town of movement and speed, as he too paints in movement and speed. An instinctual painter, he attacks the canvas directly with his knife, after – sometimes – putting in place a few perspectives. He states that he does not think while painting, working his colors directly on the canvas in a
continuous gesture. ''A town is like a landscape, sometimes dark, sometimes colorful. There is no recipe and I do not feel restrained; color calls to color''.
For Daniel Castan, to paint is to act, and act fast. Choosing to paint with a knife is significant; it corresponds to his character, as does the choice of alkyde over the past five years. ''Oils dry too slowly, acrylics on the other hand dry too fast and do not provide the same sensations.'' Once the canvas is ready, he covers it with thick strata of a shiny varnish to stress the highlights. Close to being a performance artist, Daniel Castan considers himself a stakhanovist painter and lets slip in a mildly provocative way : ''I consider myself more of a sportsman than an artist''. Andrée Maennel – Dessins et Peintures