Paul Louis Leger
+ follow
Carrière du Vallon
Galerie de Francony's Garantees
Secured payment
Safe delivery
Satisfied or refunded
A question : 06 08 91 20 80
See more works by Paul Louis Leger
About Paul Louis Leger :


Artist, photographer and director, Paul Louis Leger carries an offbeat look at our lives, he invites us to do the same, to step back, to multiply the viewpoints.


Collages, overlays, multiplication, he uses all means to transcribe his perception of the world, a strange world and timeless.

Paul Louis Leger addresses a variety of subjects and sometimes taboo issues, topics that concern us all: death, sex, violence. Subjects he deals with the same consistency, his common thread is freedom and creativity.


---

Paul Louis Léger est un artiste qui ne cherche pas à se définir. Ce qui l'intéresse, c'est inventer, fabriquer, trouver de nouveaux chemins quelque soit le support. Formé à la réalisation, il aborde le monde de l'image animée par le biais de films courts et percutants, toujours drôles. En parallèle, il développe ses recherches sur la photographie, tout en explorant d'autres supports : musique, écriture, peinture...

Paul Louis Léger use de tous les moyens pour transcrire sa perception du monde, faite de distorsions et de dissonances. De l'image animée à l'image fixe, les histoires qu'il raconte oscillent toujours entre une réalité dérangeante et une esthétique apaisante. Il nous invite à entrer dans son monde, étrange et intemporel.


Le regard décalé qu'il porte sur nos vies, se retrouve dans les effets visuels qu'il met en place dans ses photographies : collages, superpositions, multiplications. Il joue et se joue de la technique, mélangeant les procédés, des sels d'argent, à l'image numérique et la 3D.

Paul Louis Leger aborde une grande variété de sujets et des thèmes parfois tabous, des sujets qui nous concernent tous : la mort, le sexe, l'interdit, la violence. Des sujets qu'il traite avec une même cohérence, un même fil conducteur fait de liberté et de créativité. Sans jamais se départir de cette pirouette élégante et irrévérencieuse qui nous fait rire, intelligemment, de tout.

Toutes les photographies présentées par la galerie sont tirées en édition limitées sur papier Hahnemüehle PhotoRag, un papier photo d'une excellente qualité qui permet une intensité et une profondeur exceptionnelle dans les couleurs. Les oeuvres sont livrées encadrées et montées avec passe partout.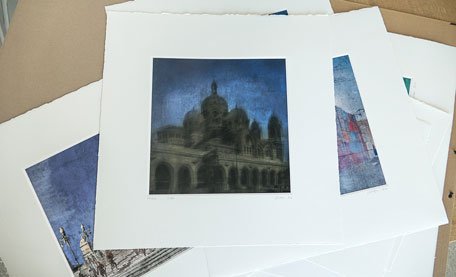 Kalachnikov

Les lieux des règlements de compte à Marseille en 2012 sont étonnamment calmes après la violence et le sang. En bas de l'image une date, comme celle qui s'imprimait sur les tirages que l'on commandait chez le photographe de quartier. Un lieu, une date, des vies qui s'achèvent. Comment, pourquoi ? On ne le saura jamais vraiment.


Les Miracles du révérend Paul Jackson

C'est le récit de la vie d'un saint homme qui réalisa nombre de miracles, hélas restés inconnus du grand public. Dans cette série qui mêle écriture et montages photographiques, Paul Louis Léger se met volontiers en scène, ne s'épargnant pas, participant avec coeur à des missions absurdes et hilarantes.

« Paul Jackson le 9 Mai 1958 dans le massif de l'Acacus, Libye » Collection particulière Un jour que Paul Jackson se promenait dans le désert, il y rencontra un chat. Le chat avait très faim. Paul Jackson souleva une pierre et sous cette pierre il y avait un poisson frais et frétillant. Il donna le poisson au chat qui le mangeât goulûment. Le chat grossit et devînt un lion. Le lion mangeât Paul Jackson qui disparu en disant « bon appétit ».


Accumulations

Ici, Paul Louis Léger joue sur l'effet conjoint de la répétition et de la distorsion. Des baigneurs, des poissons, des bébés, multiples et pourtant différents, sont mis en scène de façon parfois dérangeante. La photo des baigneurs marseillais a été sélectionnée pour faire la couverture du programme officiel du J1 pour Marseille Capitale Culturelle de la Culture.


Bleu Marseille
Bleu de la mer ou bleu du ciel, bleu pâle, bleu électrique, Majorelle, Klein ou lavande, Paul Louis Léger s'empare dans cette série de tous les bleus de Marseille pour mettre en scène des paysages urbains poétiques et apaisants. En assemblant plusieurs négatifs du même point de vue (des images nettes, des images floues) il fabrique une texture délicate et impressionniste.